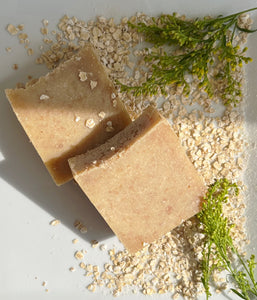 A gentle cleansing bar to help lessen breakouts and discolorations caused by acne. This natural handmade soap bar contains organic Turmeric Root and natural oils for the softening of the skin. It also can be used on the body as well. To help reduce marks left by body acne. Turmeric & Oatmeal is also used as a treatment for acne, blemishes, wrinkles, eczema, itchy skin, and psoriasis. THIS SOAP BAR IS UNISEX. 
Ingredients: Shea Butter, Coconut Oil, Organic Turmeric Root, Honey, Sweet Almond Oil, Colloidal Oatmeal 
Our Turmeric Oatmeal Soap Bar contains no fragrances. It's handmade and created to be as organic as possible, to achieve the benefits of Turmeric Root & Oats 
DO NOT USE IF YOU ARE ALLERGIC TO OATS !!!!!!!!!!!! 
DO NOT USE AROUND THE EYES, THIS MAY CAUSE IRRITATION OR BURNING. THIS IS  INDEED REAL SOAP !!
SOAP BAR CAN BE USED DAILY. OR 2-3X A WEEK. YOUR OWN PERSONAL PREFERENCE 

RINSE WELL & APPLY A LIGHTWEIGHT FACIAL OIL TO KEEP FROM OVERLY DRYING OUT YOUR SKIN. 
 Sizing Of Soap Bars Will INCREASE To 5/6 oz There Will Be A Slight Price Change !!!
Disclaimer:  This product has not been evaluated by the Food & Drug Administration and is not intended to be a substitute for the advice of your primary care physician or healthcare provider.