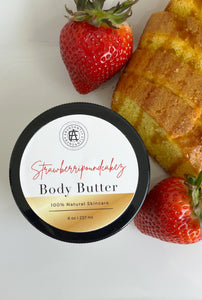 This freshly whipped shea body butter is amazingly scented with our newest fragrance . Strawberri PoundCake . If you're a lover of a fresh baked PoundCake, then this Whipped Shea Body Butter is the one for you . Grab a jar or two . She's a must have . !!!  The Aroma Is Breathtaking !! 
***Keep Whipped Shea Butters, In A Cool Place To Prevent Melting .
**DO NOT PLACE IN DIRECT HEAT !!!!!
***Whipped Shea Butters Can Be Stored In The Refrigerator To Keep Cool  With A Secure Lid .  
Do Not Use If Allergic To Nuts . Shea Butter Products Contains Coconut Oil & Shea Nuts 
How To Use : Take a small or desired amount and apply it to the full body .  Shea Butters can be worn daily . Can be applied to wet or dampen skin. Twice a day is usually recommended during the morning & night . 
*DO NOT EXPOSE TO DIRECT HEAT . REAL RAW SHEA BUTTERS WILL MELT OR SOFTEN DUE TO HEAT EXPOSURE. 
Disclaimer:  This product has not been evaluated by the Food & Drug Administration and is not intended to be a substitute for the advice of your primary care physician or healthcare provider.