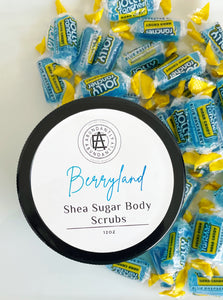 (FORMALLY RAZZ N BERRIES) Our "Blue Raspberry Jolly Rancher" Shea Body Sugar Scrub, Is One Of A Kind !!! This Scent Is So Amazing & Lingers Throughout Your Home, Bathrooms & Skin, Well After You've Showered !!! Talk About A "Body Candy" Fragrance !!! A Scent You'll Absolutely Love.... It's Sweet, Flirty, And Filled With Blue Raspberry Notes.  It Gives A Soft, Yet Powerhouse Aura To Each Jar !!!!!!! A MUST HAVE TO YOUR TRULY YUMMY COLLECTION!!!!!!
*Do Not Use If Allergic To Nuts . Oil Products Contains Coconut Oil & Tree Nuts
( Shelf Life 3 Weeks To One Month ) 
*ALL SHEA SUGAR SCRUB PRODUCTS CONTAIN OILS BLENDS. CLEAN SHOWERS REGULARLY TO AVOID SLIPPAGE AFTER USAGES . 
(NOT RECOMMENDED FOR PREGNANT WOMEN OR ELDERLY)  
Disclaimer:  This product has not been evaluated by the Food & Drug Administration and is not intended to be a substitute for the advice of your primary care physician or healthcare provider.