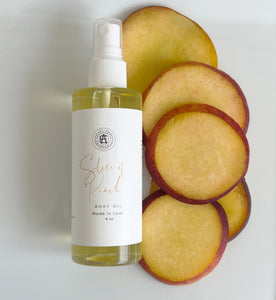 Our Moisturizing Amazingly vibrant "Slice Of Peach Body Oils" are best paired with our " Soothe Me Unscented Whipped Shea Body Butters Or the Slice Of Peach Whipped Shea Body Butters" and our  "Slice Of Peach Shea Sugar Scrubs". - Labeling may vary from Peached Out to Slice Of Peach! However, they're all the same scent.  Have A Peachy Day!!
*Do Not Use If Allergic To Nuts. Body Oils Does Contain Products Of Almond Oil.
*DO NOT EXPOSE TO DIRECT HEAT.
Disclaimer:  This product has not been evaluated by the Food & Drug Administration and is not intended to be a substitute for the advice of your primary care physician or healthcare providers. 
*Do Not Use If Allergic To Nuts. Oil Products Contains Coconut Oil & Tree Nuts
Directions: Apply to wet or dry skin directly out of the bath or shower for better longer results. Shake before use to ensure the oil blends are properly mixed and blended when in use. DAILY USE IS RECOMMENDED ... 
*******EXTERNAL USE ONLY IF APPLIED IN THE FAVORITE AREAS  !!!! PRODUCTS CONTAIN FRAGRANCE AND AEO  IS NOT RESPONSIBLE FOR ANY IRRITATIONS APPLIED TO ANY INTIMATE AREAS AT THE DISCRETION OF THE USER!!!!