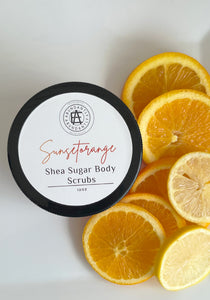 Spring'n into action with this "Fan Favorite ". A great refreshing sweet summer scent !!  This orange-scented Shea Sugar Scrub is a must-have.  Not only does this scent lingers throughout the day, but it lingers throughout the entire home as well. Having visitors thinking they've just entered into a tropical island ... Sunsets On A Nice Vacay !!!!
( Shelf Life 3 Weeks To One Month ) 

*ALL SHEA SUGAR SCRUB PRODUCTS CONTAIN OILS BLENDS. CLEAN SHOWERS REGULARLY TO AVOID SLIPPAGE AFTER USAGES . 
(NOT RECOMMENDED FOR PREGNANT WOMEN OR ELDERLY)  

Disclaimer:  This product has not been evaluated by the Food & Drug Administration and is not intended to be a substitute for the advice of your primary care physician or healthcare provider.