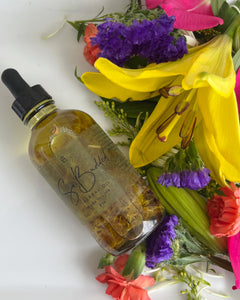 Our" Organic So Budded" herbal oils are infused with natural herbs and power-packing botanicals. That may help treat mild skin irritations caused by eczema or other related skin conditions. "So Budded" oils can be used daily to help treat skin irritations, acne, and dark spots, reducing dark spots, itchy skin, and also inflammation of the skin, by adding a mild cooling and calming effect to those areas in which it is applied. This multi-purpose lightweight oil is great for skin hydration, and soothing the skin reducing your dehydrated skin on your very first usage. YES, it can be applied to your face to help reduce acne. Super lightweight and absorbs nicely without adding heaviness or greasiness to your face and body. 
How To Use: 
For Body -Gently cleanse areas where So Budded will be applied. Then apply 2-3 drops of oil to desired areas. Rub in a circular motion 2 times a day, preferably day and at night. Or depending on how often you take your showers/baths. Recommended on clean skin to reduce air bacteria. Can be used on mild damp skin for easier application. 
For Face: Gently cleanse the face where Flower Power oil will be applied. Then apply 1-2 drops of oil to desired areas or upon both sides of your cheekbones. Gently rub in an upward motion 2 times a day, considering in the morning and at night. NOTE ( Oil contains Organic Neem) so you may feel light cooling on your face. But this will dissipate quickly.  The face is more sensitive and prone to oils, so if any irritations occur please discontinue use immediately.  Mild cooling sensations will decrease afterward it has been absorbed onto the skin. If you have eczema on parts of your face use in moderation and smaller drops on clean skin for irritations. 
ATTENTION: THIS PRODUCT CONTAINS ORGANIC OAT AND NUT PRODUCTS SUCH AS ALMOND OIL. DO NOT USE IT IF YOU ARE ALLERGIC TO OATS OR NUTS. PATCH TEST ON SMALL AREAS FIRST !!!!! 
Antibacterial/ Anti-inflammatory Properties*****
Shelf Life 2-3 years ***** IT'S ORGANIC & UNSCENTED !!!!!!!!