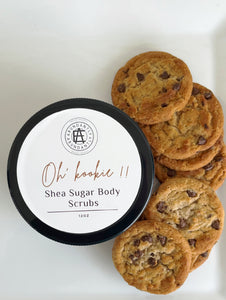 (FORMALLY SUGAR COOKIE CRUMBS  ) Oh'Kookie is  one of our Shea Sugar Scrubs . The scent of soft baked cookies, with warm vanilla notes . Best paired  with our "Cookie Batter  " Shea Body Butter .  Kookie can be used as an versatile season scrub depending on your desired taste ..  
*Do Not Use If Allergic To Nuts . Oil Products Contains Coconut Oil & Tree Nuts
Shelf Life 3 Weeks To One Month ) 
*ALL SHEA SUGAR SCRUB PRODUCTS CONTAIN OILS BLENDS. CLEAN SHOWERS REGULARLY TO AVOID SLIPPAGE AFTER USAGES . 
(NOT RECOMMENDED FOR PREGNANT WOMEN OR ELDERLY)  
Disclaimer:  This product has not been evaluated by the Food & Drug Administration and is not intended to be a substitute for the advice of your primary care physician or healthcare provider.