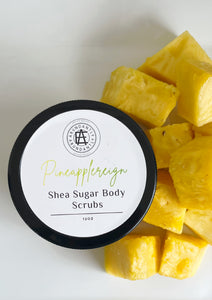 This Shea sugar scrub, will leave your body smelling deliciously vibrant & awaken. The Pineapple Reign Shea  Sugar Scrub, is for sure a MUST HAVE !!! The most requested, the most popular and highly suggested. So if you're into sweet, tropical scents the Pineapple Twist Shea Sugar Scrub Is For You ..  A FOR SURE VACAY BRING ALONG !!!!!!! 
(This Product Is Unisex ) YES … UNISEX 
(BEST SELLER) 
*Do Not Use If Allergic To Nuts . Oil Products Contains Coconut Oil & Tree Nuts
. ( Shelf Life 3 Weeks To One Month ) 
*ALL SHEA SUGAR SCRUB PRODUCTS CONTAIN OILS BLENDS. CLEAN SHOWERS REGULARLY TO AVOID SLIPPAGE AFTER USAGES . 
(NOT RECOMMENDED FOR PREGNANT WOMEN OR ELDERLY)  
Disclaimer:  This product has not been evaluated by the Food & Drug Administration and is not intended to be a substitute for the advice of your primary care physician or healthcare provider.