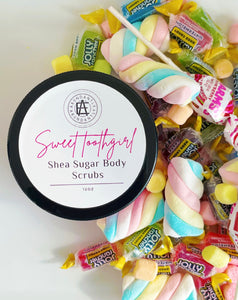 A TOP SELLER !!!!!! "SweetTooth Girl" Shea Sugar Scrub, Will Leave Nothing But Skin Cavities... Infused with natural organic oils, sealing in moisture directly out of your shower.   It's Pure Sweetness...Yet, A Fun and flirty Everyday Scent... You'll Love it. Our customers can never just grab one, they always take two lollipops to go ...   ( Shelf Life 3 Weeks To One Month ) 

*ALL SHEA SUGAR SCRUB PRODUCTS CONTAIN OILS BLENDS. CLEAN SHOWERS REGULARLY TO AVOID SLIPPAGE AFTER USAGES . 
(NOT RECOMMENDED FOR PREGNANT WOMEN OR ELDERLY)  

Disclaimer:  This product has not been evaluated by the Food & Drug Administration and is not intended to be a substitute for the advice of your primary care physician or healthcare provider.