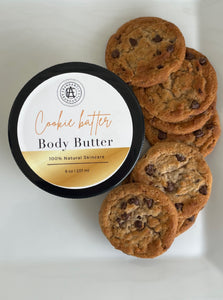 This cookie battered scented Shea Body Butter is perfect for the Oh' Kookie  Lovers . The " Oh'Kookie" is an all around everyday seasonal body butter. **PLEASE NOTE THAT THE CURRENT LABEL STATES " COOKIE BATTER" It is the same scent from the Oh'Kookie Scrub and Oh'Kookie Body Oil 

*Do Not Use If Allergic To Nuts . Shea Butter Products Contains Coconut Oil & Shea Nuts 





How To Use : Take a small or desired amount and apply it to the full body .  Shea Butters can be worn daily . Can be applied to wet or dampen skin. Twice a day is usually recommended during the morning & night . 

*DO NOT EXPOSE TO DIRECT HEAT . REAL RAW SHEA BUTTERS WILL MELT OR SOFTEN DUE TO HEAT EXPOSURE.

Disclaimer:  This product has not been evaluated by the Food & Drug Administration and is not intended to be a substitute for the advice of your primary care physician or healthcare provider.