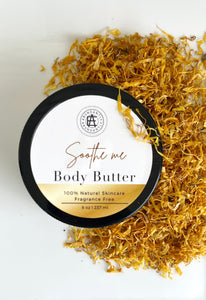 (FORMALLY EXTREME CREAM UNSCENTED) This amazing whipped textured  (EXTRA) moisturizing Shea butter, is ideal for all skin types. The Soothe Cream is unscented. It's excellent for sensitive skin, eczema, severe dry skin, dermatitis, hair dandruff, stretch marks, blemishes, discolorations, scars and is even kid and baby friendly too! This amazing butter has been known to "Heal" the skin . This product is our most sought out purchases . The customers LOVE IT !!! Formally Known As Extreme Cream 

* Do Not Use If Allergic To Nuts . Shea Butter Products Contains Coconut Oil & Shea Nuts 
How To Use : Take a small or desired amount and apply it to the full body .  Shea Butters can be worn daily . Can be applied to wet or dampen skin. Twice a day is usually recommended during the morning & night . 
*DO NOT EXPOSE TO DIRECT HEAT . REAL RAW SHEA BUTTERS WILL MELT OR SOFTEN DUE TO HEAT EXPOSURE . 
Disclaimer:  This product has not been evaluated by the Food & Drug Administration and is not intended to be a substitute for the advice of your primary care physician or healthcare provider.