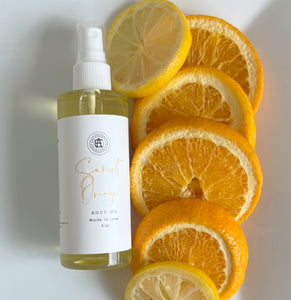 This amazing vibrant orange-scented body oil is infused with our natural oil blends and can be worn daily as an everyday scent. Or before bed directly applied after the shower on wet/damp skin or dry skin. Softly orange scented and just the right amount of sweetness and citrus. Enjoy this one she's a keeper for sure. 
*Do Not Use If Allergic To Nuts. Oil Products Contains Coconut Oil & Tree Nuts
Directions: Apply to wet or dry skin directly out of the bath or shower for better longer results. Shake before use to ensure the oil blends are properly mixed and blended when in use. DAILY USE IS RECOMMENDED ... 
*******EXTERNAL USE ONLY IF APPLIED IN THE FAVORITE AREAS  !!!! PRODUCTS CONTAIN FRAGRANCE AND TRULY YUMMY IS NOT RESPONSIBLE FOR ANY IRRITATIONS APPLIED TO ANY INTIMATE AREAS AT THE DISCRETION OF THE USER!!!!  
***THE PRODUCT DESCRIPTION COMES IN A FROSTED CLEAR BOTTLE WITH A BLACK PUMP FOR EASIER EVENLY DISTRIBUTION. 
Truly Yummy scents and packaging are subject to change.