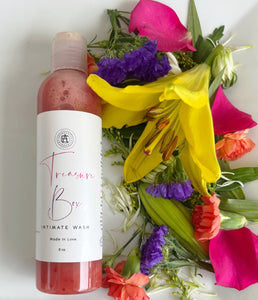 ALL YOU WILL EVER NEED WITH THIS INTIMATE WASH IS "ONE GOOD LATHER!!!!!!! 
Our premium 100% organic herbal wash is gentle enough to be used daily. Handmade and crafted for the most sensitive lady. Infused with antibacterial/antifungal fighting powerful essential oils, to help maintain and regulate a healthy PH balance.
"Treasure Box " may help aid in vaginal detoxing, reducing mild yeast infections, itchiness, vaginal dryness, reducing and eliminating odor-causing bacteria, HSV reduction outbreaks, and BV. 
Our ultra cleansing Treasure Box intimate washes gently cleanses without causing future irritations. Leaving your lady feeling extra cleansed each time it is used. 
HOW TO USE: Use only a quarter size amount to a washcloth, sponge, or preferred bath towel. Wash your vagina under running shower water and allow water to rinse completely as you wash your intimate areas. DO NOT APPLY SOAP INSIDE YOUR VAGINA OR OVERLY APPLY SOAP.
Ingredients: Organic Lavender Essential Oil, Organic Tea Tree Essential Oil, Organic Peppermint Essential Oil, Avocado Oil
EXTERNAL USE ONLY !!!!  
 100%ALL NATURAL FEMININE SOAP WASH
This wash includes essential oils and is for EXTERNAL USE only !!! Never insert wash on the inside of the vagina, suds could lead to irritations or mild discomfort.  Rinse Well   
Discontinue Use Immediately If Irritations Occur, Each Individual Intimates Are Different. Certain Washes, Soaps, Oils May Vary from Person To Persons  
Disclaimer:  This product has not been evaluated by the Food & Drug Administration and is not intended to be a substitute for the advice of your primary care physician or healthcare provider.
PLEASE KEEP IN MIND !!!!!!
{ CONSULT WITH YOUR PHYSICIAN BEFORE USING IF PREGNANT OR BECOMING PREGNANT }